On the 4th day of Christmas.....Santa Nancy will give to you.....a hand made (by me, Santa) a sewing necessaire complete with all the trims, floss, felted wool button and charm bag with antiqued safety pin closure, charms and buttons, wool felt needle pages and an antiqued large flower safety pin, and my own Flo Blue Floss.
This is made with Williamsburg Sampler Fabric, I have antiqued it, and made this for you. I have sold dozens on ebay and they are very popular. The alphabet is the fabric pattern, this is not stitched.
I will be giving away necessaries with other fabric patterns so stay tuned.

Image not available
Photos not available for this variation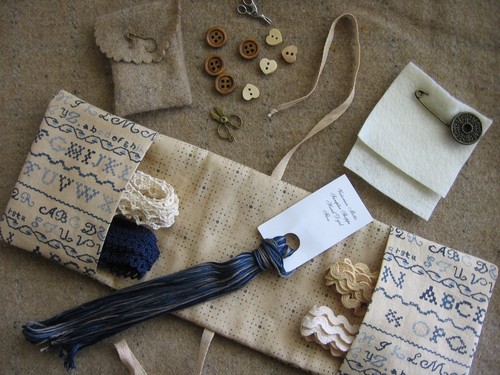 Rules: They will be the same for each drawing. You must be a follower at the right. Click to follow by faithful friends.
You must post a comment on each drawing you want to enter.
Post on your blog or facebook and get 25 more entries. Send a friend to join and get 25 more entries! We want to spread the word so lots of people can enter to win a gift.
Drawing to be December 4th. Remember that you must check back to see if you are a winner.
Good luck everyone....Santa Nancy better start the sewing machine!